Ron Martin, CIC, CISR
President
Ron is a founding partner of RMG Insurance and President of the agency. He is responsible for sales of personal and commercial accounts, as well as the marketing and management of the agency and its technology.
Ron attended LaSalle College High School, graduating in 1982. He went on to the University of Delaware, where he graduated with a Bachelor of Science degree in Business Administration with a concentration in Marketing in 1986. Ron earned the CISR (Certified Insurance Service Representative) designation in 1990, and his Certified Insurance Counselor (CIC) in 1992.
Ron has been involved with many community and industry affair organizations, serving as Chairperson for the Central Bucks Chamber's Bucks Fever Filmfest, the Lehigh Valley Chapter of the University of Delaware Alumni Club, the Discover Doylestown Committee, the AMS Eastern PA User Group and Harleysville Insurance's Users Group. He also served on the board of the Community Conservatory of Music in Doylestown and the Mercer Museum's Rainmakers Committee.
In 2006, he developed an annual ladies gourmet golf outing to raise money for local non-profits. The outing generated over $100,000 during its existence.
Ron is an avid golfer, enjoys the beach, discovering new musical artists and supports the local wine trails.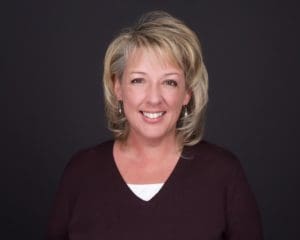 Mish Ganssle, CPCU, CIC
Vice President
Mish began her insurance career in 1989 as a field underwriter and spent 12 years on the insurance company side of the industry in Chicago, Atlanta, Cleveland and Philadelphia before returning to her hometown to become a broker/agent in 1998.
Mish currently serves on the Supervisory Committee of IRCO Community Federal Credit Union. She has served as trustee for Communities in Schools of the Lehigh Valley, Treasurer for the Greater Easton Development Partnership, and board member for the Easton Heritage Day.  Mish has also served as past President of the CPCU Society Lehigh Valley Chapter, member on the Westfield Insurance Agency Panel, and received the SUITS Award for Insurance (2008)
She guest lectures at Lehigh University's Masters Degree in Technical Entrepreneurship where student innovators launch their ideas into reality. Mish believes in educating her clients, empowering them to make informed decisions on coverage purchases, self-insuring other risks and comparing plans that protect people, their reputations and activities.
Teri VanHorn, AAI
Commercial Account Manager
Teri has been a licensed property and casualty agent since 1976, and earned her Accredited Advisor of Insurance (AAI) designation in 1985, and her Life/Health & Accident license in 2003. She is responsible for the daily servicing of commercial accounts.
Prior to joining RMG, Teri worked for a Bucks County agency, where she served as branch manager for one of their three locations. She has supervised personnel, managed new and renewal accounts, and specialized in agency book rollovers.
A native of Bucks County, Teri lives in Pipersville PA with her husband, Bill. They have three grow children.  In her spare time, you can find her riding her motorcycle next to her hubby and friends or at the beach.
What It Means to Be a CIC
The Certified Insurance Counselor (CIC) designation is a mark of distinction that represents a commitment to professional excellence and leadership within the insurance industry. The 31,000 designated CICs across the country are recognized as among the best and most knowledgeable insurance practitioners in the nation. The formal training required to become a CIC includes 100 classroom hours and the successful completion of five comprehensive exams, with an annual update required to ensure that CICs maintain their edge as the most capable and current insurance practitioners in the industry.
What It Means to Be a CPCU
A Chartered Property Casualty Underwriter (CPCU®), is an insurance professional who has earned the CPCU designation; the designation is conferred by The Institutes. CPCUs are considered to be property-casualty insurance subject matter experts. In order to earn this prestigious designation, insurance professionals must meet certain requirements in the following areas:
Education
CPCUs pass eight national exams on topics including insurance law, accounting, risk management, and ethics. CPCUs continually update their base of insurance expertise by participating in technical and professional development workshops and seminars.
Ethics
CPCUs promise to abide by a Code of Professional Ethics, placing their clients' needs before their own.
Experience
CPCUs meet an experience requirement to become a CPCU and have proven insurance expertise and knowledge.